MSN Desktop Search First Impressions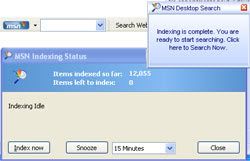 Well, indexing didn't take that long. Much faster than Google's.
Okay, if you've installed the MSN Toolbar Suite and finished indexing, you can click on the search arrow in the MSN Deskbar and get a blank MSN Desktop Search page. You have three options, in addition to the regular Web, News and Images. The Desktop tab has options to search Everything, Documents, Email, Music, and Pictures & Video, plus a drop down list with a ton of options. Files has the same options, except it replaces email with Pictures (what the difference is between "Pictures & Video" and "Pictures"), and the Outlook Express tab has just Email. Search speed is determined by your machine, and you can see the time your search took in the status bar.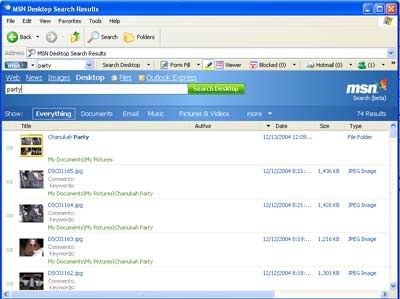 The results page has thumbnails of any photos, shows full-size icons, and has sortable columns, all things you don't get with Google. You get file sizes, dates modified, and the author's name. It displays full meta date, but does not index all of it, so while you can search for MP3s by artist, album, but not genre or year. Unlike regular Windows search, you can't search by date or file size, but a simple solution exists: Search by something you
do
know, like file type, and then sort the columns by that criteria. There appears to be no limit to the number of results you can see per page.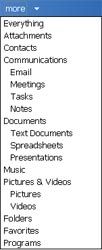 What can you specifically search for?
Mail attachments
Contacts
Outlook data:
Text documents
Spreadsheets
Presentations
Music
Pictures
Videos
Folders
Favorites
Programs
What do I like?
Options
- MSN gives you a lot of options to consider in your searches, from types of searches, sorting, meta data, all built into the interface (no search limiters to remember, although they work too).
Interface
- MSN Desktop Search has an interface, unlike Google, and its very intuitive and familiar. Google Desktop Search asks "What could be more familiar than a web page?" and MSN answers handily. Unlike Google, MSN Desktop Search acts like a normal Windows Explorer, letting you right-click on items and have the normal context menu, but also acts like IE, in that any file that can be run in IE can run in Desktop Search,like MP3s.
Dissapointments
:
Email
- No Outlook Express integration (although it indexes the data), and no Hotmail indexing. I can't believe it has no Hotmail indexing. That seems to be a no brainer, and yet, it doesn't happen. Of course, Google can't index Gmail, so I guess everyone left out that feature.
No AIM conversation logs
- Just for the AIM logs, I will keep GDS installed. There is unbelievable value in finding a phone number that you lost through an AIM log.
So, which is better? My first impression of MSN Desktop Search is that it outperforms Google. Of course, I was way too impressed with GDS in the first place. I think desktop search is a bit overrated. I don't use GDS anymore, except for AIM searches. Time will tell if MSN proves more useful. It's a better product, but I'll have to see if I actually wind up using it on an everyday basis.